Melton Court care home to be closed by Friday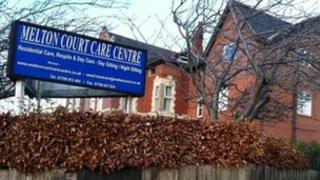 The manager of a South Yorkshire care home, which has been ordered to close by Friday, says she is in talks with two potential new providers.
The 21 residents at Melton Court in Maltby have to find new homes, after it emerged the owner is in prison.
The Care Quality Commission (CQC) revoked Ishtiaq Zahir's licence and said the home is operating illegally.
Acting manager Sue Masson said she could get a new provider in place if they were given more time.
The CQC announced last week that Melton Court would have to close, and Rotherham Borough Council has confirmed its elderly residents have to be moved by Friday.
Zahir was convicted of causing grievous bodily harm and actual bodily harm in 2010 and was jailed for eight years.
The CQC said it learned Zahir was in prison in August 2012 and notified him by letter on 19 September that it was cancelling the registration of the home.
Ms Masson, who has been acting manager of the home for seven years, said: "It is absolutely devastating.
"From the moment I was given information regarding the registration, which was October, things have been put in place to ensure there's another provider at Melton Court.
"At no time was it ever stated there was any possibility of the home closing."
'No option'
Maureen Jessop, 75, who has lived in the home for five years, said: "I don't know where to go, what to do, or anything.
"I don't want to leave, but if it's closing down I won't have any choice. I've got used to the people here, they all look after me and I don't know what will happen."
A spokesman for Rotherham Borough Council said: "Once we were informed of the CQC's decision to deregister the privately-run home, we and our NHS partners then had no option but to put our home closure protocol into place.
"We are working very closely with all our partners and the staff at the home and committing all our resources to transfer the 21 residents as quickly as possible.
"The owner and the manager of the home were aware of the stance being taken by the CQC in September and had options to resolve the issue then."