South Yorkshire metal theft raids lead to 11 arrests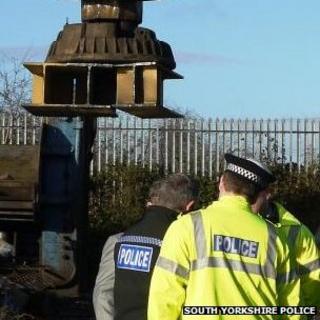 Police have raided 20 scrapyards and searched 235 vehicles in a crackdown on metal theft in South Yorkshire.
A search of a house in Rotherham led to the discovery of 20 tonnes of metal, an electric stun gun, CS gas and a "suspected modified air rifle". Five people were arrested and bailed.
Also on Monday, a 46-year-old man from Thorne, Doncaster, was arrested on suspicion of stealing a van, £35,000 of metal and £15,000 of diesel.
Police arrested 11 people in total.
Supt Tim Innes said: "The range of results demonstrates how broad metal theft is and how many other crime types are linked to metal.
"The whole community can be affected by the consequences of metal theft."
A new law banning cash payments for metal at recycling yards in England and Wales came into effect on Monday.