Rotherham MP Sarah Champion says 'not career politician'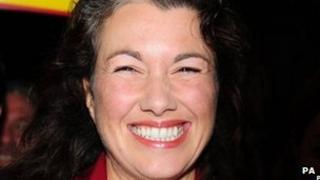 Sarah Champion is Rotherham's first woman MP and was Labour's "clean break" candidate for the town.
"There are some people who from the moment they were born wanted to be a politician," she said.
"Whereas for me, since I started working I've always been working with the community and I want to carry on doing that," Ms Champion told BBC Radio Sheffield.
After graduating from the University of Sheffield with a psychology degree, she spent 12 years running the Chinese Arts Centre in Manchester.
Until she was declared winner of the by-election in the early hours of the morning, Ms Champion was chief executive of Bluebell Wood Children's Hospice in Rotherham, which opened in 2008.
"I got a bit tearful, I had to text my resignation," she said.
Her focus will now be on raising the profile of Rotherham, which she said has been "kicked about" by politicians and the media.
"One of the reasons I stood is that Rotherham is a great town, and it always seems to be in the news for negative things.
"Why would people invest in the town and create jobs if they think it's awful?"
Ms Champion insists she is unlikely to be on the shadow front bench anytime soon.
"I don't want to be a career politician, I'm doing this for Rotherham first.
"For them to have a voice I'm going to have to go down to London, but for me it's out there on the streets, hearing what people are saying and representing them," she said.