Rotherham by-election: Sarah Champion holds Labour seat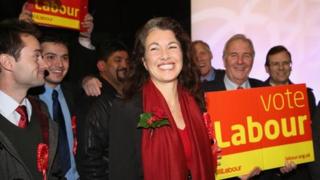 Labour has held the South Yorkshire seat of Rotherham in a parliamentary by-election with the UK Independence Party taking second place.
Sarah Champion secured the seat with 9,866 votes - 46% of those cast.
UKIP's Jane Collins came second with 4,648 votes and the British National Party's Marlene Guest came third on 1,804 votes.
The by-election was called following the resignation of the former MP Denis MacShane on 2 November.
Mr MacShane stepped down after he was found to have wrongly claimed at least £7,500 in expenses. He had been MP for the town since 1994.
Labour described Ms Champion as a "clean break" candidate following the scandal surrounding Mr MacShane, and she becomes the first-ever woman MP for the seat.
Speaking after her victory, Ms Champion said: "I've never stood for election before but when I see the damage David Cameron is doing to Rotherham I cannot stand and watch.
Ms Champion, chief executive of a children's hospice, said she was not a career politician and will serve "not for what I can get out of it but what I can put into it".
Mr Farage, who was at the Rotherham count, said the result was the party's "best ever" at a by-election.
"It's big progress. It's a big night for UKIP," he added.
UKIP's campaign in Rotherham was boosted by a row over a local couple who had their foster children removed by the Labour council because they were UKIP members.
There were 11 candidates standing in the by-election and the turnout was 33.8% - down from 59% in the 2010 general election.
Labour also won by-elections in Croydon North in south London and Middlesbrough.