Sheffield crash man found dying in Arbourthorne Road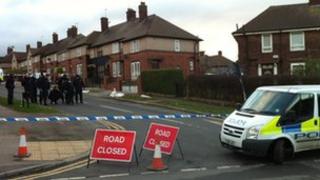 A 19-year-old man has died after being found in the road following a car crash in Sheffield.
Officers said a 4x4-type vehicle fled the scene after being involved in a collision with a VW Golf car on Arbourthorne Road on Tuesday evening.
A post-mortem examination found he died from injuries consistent with being a passenger in a collision.
South Yorkshire Police said they believe he was in the 4x4 at the time of the crash.
Ambulance staff found a man lying in the road and took him to the Northern General Hospital, where he died.
The driver of the VW Golf, a 56-year-old woman, and her passenger, a 58-year-old man, were unharmed in the collision.