Rotherham Central railway station struck by flooding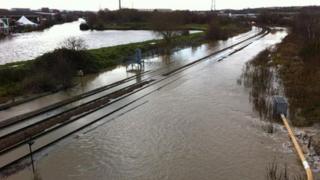 A railway station in South Yorkshire closed for several hours after becoming flooded earlier.
Rotherham Central station closed for about three hours from 09:00 GMT because tracks were under water.
South Yorkshire Fire and Rescue service said it had dealt with a number of flood-related incidents throughout the day due to heavy rainfall.
Crews helped at an office block in Maltby, near Rotherham, flooded with about 45cm (18in) of water.
Warning to motorists
A spokeswoman for Northern Rail said the station, which is now open to all services, was running with minor delays due to an enforced speed limit in the area.
The fire service said it had helped to rescue a number of narrowboats in the area which had difficulties due to the current.
A man and his teenage son got into difficulty on the River Don at Sprotborough when their boat began listing.
The pair and their dog were rescued by fire crews at 12:00.
A woman was also rescued after becoming stuck in 91cm (3ft) of water under a bridge on Scotch Spring Lane in Stainton.
And motorists were being warned to drive with caution after the fire service helped a campervan which became stranded in a car park in Kilnhurst.