Women bishops: Do not resign, says Bishop of Sheffield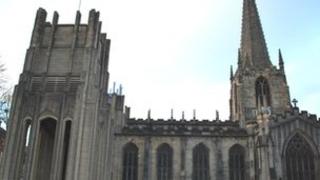 The Bishop of Sheffield has called for members of his diocese not to stand down from their posts following the decision not to introduce women bishops into the Church of England.
Dr Steven Croft, who met with about 80 members of the General Synod from the Sheffield Diocese on Saturday, said some talked of resigning.
Dr Croft said people were "fed up" and "surprised" by the announcement.
"We need to stay together through this, just like any family," he said.
'Times of difficulty'
Dr Croft told the BBC that although nobody had stood down or resigned from their posts he was concerned.
"I've had the conversation with people who are just so fed up and surprised that they think, just how do I respond?
"The first instinct is to withdraw. And whilst I understand that, I am trying to say back to people: 'Please do not do that. We need your help and support. We need to stay together through this, just like any family or group of people who love each other through times of difficulty'.
"We will find a way forward.
"Some have talked of resignation and withdrawal - from their posts, from additional responsibilities, from volunteering, from the life of the Church of England."
In response to the announcement on Tuesday a number of figures have spoken out against the decision to not introduce women bishops, including Prime Minister David Cameron and the next Archbishop of Canterbury and current Bishop of Durham, Justin Welby.
The measure was passed by the synod's houses of bishops and clergy but was rejected by the House of Laity. It could be about five years before a similar vote can be held again.
Dr Croft added: "It's part of people's response. It's a way of registering how seriously they are disappointed and angry the decision didn't go the other way."
The Bishop of Sheffield told the BBC he hoped the news would not affect congregation numbers, something which the diocese has worked to increase over the past 12 months.
"I do think it is a really really serious issue and we as a church have to respond to what has happened and get it right."
A meeting will be held on Wednesday alongside the Bishop of Doncaster and about 40-50 female clergy from the diocese to hear their views and see what future action should be taken.