Rotherham by-election candidates talk jobs and grooming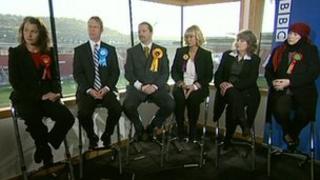 Candidates vying to be Rotherham's next MP have discussed two major issues affecting the town.
South Yorkshire Police have been told to "get a grip" on child sex offending in Rotherham, while unemployment in the town is above the national average.
In a debate on the BBC's Sunday Politics show, candidates in Thursday's by-election all spoke of how they wanted to tackle the problems.
The by-election was sparked by the resignation of Labour's Denis MacShane.
Mr MacShane resigned on 2 November after he was found to have wrongly claimed at least £7,500 in expenses.
Labour's candidate Sarah Champion said Mr MacShane's actions were "shameful" and she wanted to be the one to "bring respect back into Rotherham".
Immigration policy
Each of the other candidates said the town had been let down by Labour and change was needed.
On the issue of unemployment and the economy, Ms Champion said Labour was committed to supporting people who were vulnerable or ill but was trying to get more people into work and off welfare.
She said said she wanted to attract more investment to Rotherham, and see more apprenticeships and training available.
Conservative candidate Simon Wilson said: "The coal and the steel has disappeared. We have to replace this and we have started doing that with things like the advanced manufacturing park.
"Companies like Rolls Royce investing in creating 150 jobs in Rotherham, that's fantastic news, but what we have to do is more of that."
Marlene Guest, the British National Party candidate, said it was "pointless" creating new jobs "if you're going to bring half the third world in to come and take them".
The UK Independence Party's Jane Collins agreed that immigration policy had to change.
She said: "An open-door immigration policy doesn't work and that isn't something against anybody who's coming into the country, it doesn't matter who you are, it doesn't work. It puts strains on to facilities and it puts strains on the welfare facilities as well."
Respect's Yvonne Ridley said the area's coal industry had been destroyed and more needed to be done to support ex-miners who were unemployed, on benefits or suffering from health problems.
Liberal Democrat Michael Beckett said, as a former Citizen's Advice Bureau manager, he understood the benefits system well.
He said: "I certainly want to help improve the life choices of people in Rotherham and I think the best way to do that is to spend time with them, getting to know them, helping them."
Last month South Yorkshire's chief constable and one of his top officers were criticised by the Home Affairs Select Committee and told to "get a grip" on child sex offending in Rotherham.
It came after The Times said confidential police reports referred to widespread abuse of girls by Asian men.
The force said this week it was working with partners to make "continued improvements to how we recognise and deal with child sexual exploitation in all its forms".
'Families destroyed'
On Wednesday, Rotherham council admitted the number of young girls at risk of sexual exploitation in the town had increased.
It said more "preventative work" was being done including work with local mosques and education in schools.
Mrs Collins said she believed the problem had been ignored in the past.
She said: "Whoever is elected as the next MP for Rotherham has to have the guts to take on the local authority and hold them to account."
Mrs Guest agreed that the issue had not been dealt with properly and she had held meetings in communities to discuss concerns with residents.
She said: "I thought the children in my town had got to be protected and I held meetings in pubs asking people to come and explain what was happening, to explain the warning signs that you've got to look for."
Ms Ridley said she had spoken to Muslim residents who were "outraged because they said: 'It's as though everybody thought we knew it was happening and we didn't'."
She said she had tried to raise the problem with authorities in the past and been labelled "Islamophobic", and she hoped anybody involved with such crimes would be "dragged through the courts".
Ms Champion and Mr Beckett said the victims of grooming should be the main focus.
"These crimes are completely destroying the children, they are completely destroying families."
Mr Beckett said the "primary duty of any local authority or any MP is to look for the victims and give more support for them".
Mr Wilson said Rotherham's new MP should speak to the county's new Police and Crime Commissioner, Shaun Wright, and urge him to make the issue a priority.
Also standing in the by-election are Ralph Dyson for the Trade Unionist and Socialist Coalition, English Democrat David Wildgoose and independents Clint Bristow, Simon Copley and Paul Dickinson.