Arthur Scargill and NUM settle expenses dispute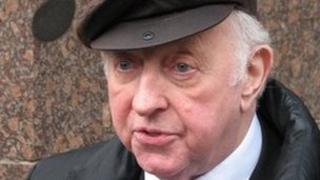 Ex-miners' union president Arthur Scargill has reached an out-of-court settlement with the National Union of Mineworkers (NUM) over expense claims.
In February, Mr Scargill was awarded £13,000 in damages by a judge at Sheffield County Court after he claimed the union owed him expenses.
The NUM said it would appeal against the decision, which was due to be heard at the Court of Appeal in January.
A statement on behalf of both parties said the issue had now been settled.
Earlier this year Mr Scargill, 74, sued the NUM Yorkshire Area Trust Fund over a range of expenses he said he was owed, which included a car allowance.
The trust that Mr Scargill joined after standing down as NUM national president in 2002 questioned the contract, prompting the court case.
Dispute over flat
A statement released on behalf of both parties said: "The action due to be heard in the Court of Appeal in January 2013 has been settled between the parties on terms acceptable to the parties.
"No other statement will be made about this matter by any party to this litigation or by any other person acting on their behalf."
Speaking at the time, Mr Scargill said the leadership at the NUM in Yorkshire had taken "vindictive action" against him.
He was president of the NUM from 1982 until 2002, and led the union during the miners' strike in the 1980s.
A separate High Court case is taking place, regarding a dispute over rent payments in Mr Scargill's flat in the Barbican, London.
He claims he was given the use of the rented three-bed flat for life when he first became the NUM's national president.
Under the union's rental terms, he believes he should have use of it until he dies.
Maintaining the flat costs £34,000 a year, which the union says it cannot afford.