Doncaster drivers in ACAS talks over Stobart deal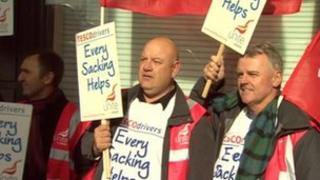 Talks to resolve a dispute involving lorry drivers at a distribution centre in South Yorkshire have begun.
Drivers at a Tesco distribution centre in Doncaster have been involved in industrial action over planned cuts.
Eddie Stobart took over the operation from Tesco in August and announced a reorganisation in September.
The driver's union, Unite, embarked on talks at the Advisory, Conciliation and Arbitration Service.
The union claimed a total of 183 lorry drivers' jobs at the Doncaster centre are threatened by the plans.
Last month David Pickering, Eddie Stobart managing director, said the firm had enhanced its offer to the drivers.
But Unite said members did not believe the offer was a fair one.