Sheffield raids lead to weapon and drug arrests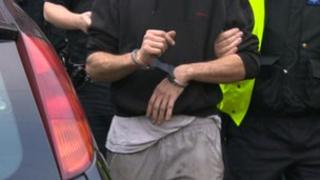 Dozens of weapons were seized, along with drugs and counterfeit alcohol and tobacco, in a series of police raids in Sheffield.
South Yorkshire Police said the operation in Parson Cross was in response to an increase in "serious violent crime".
There have been a number of shootings in the area over the last two months.
The raids on Wednesday led to 21 arrests, including two men for breaching new gang injunctions.
The injunctions were granted last week against 12 alleged gang members in the city, which impose restrictions including curfews and a ban on associating with certain people.
Police said they also executed seven warrants.
A 41-year-old woman was arrested and 20 knives seized at a property on Lytton Drive, and 1kg (2.2lb) heroin was found at a house on Pollard Avenue.
Supt Shaun Morley, who led the operation, said: "There are significantly less weapons on Parson Cross now. We will not rest until [this behaviour] has been negated altogether."