Rotherham by-election: Walkout over Labour candidate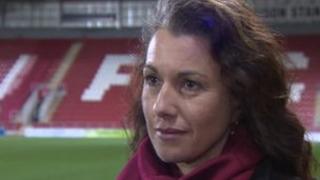 Labour has caused upset within the ranks of its own activists by selecting a perceived outsider to challenge for the Rotherham by-election instead of the local members' favourite.
The party's so-called "clean break" strategy worked for it in Barnsley last year and party managers are pinning their hopes on the same strategy retaining its neighbouring South Yorkshire stronghold of Rotherham.
However, the political playing field is far different this time around.
When Labour parachuted in former soldier Dan Jarvis last year to wipe away the memories of jailed expenses fraudster Eric Illsley he was pitted head-to-head with shortlisted local candidates at the member's selection meeting in Barnsley and won their support.
At the time Barnsley had no single home-grown favourite.
This time the National Executive Council (NEC) meeting in London deliberately failed to shortlist Mahroof Hussain, a Rotherham-born member of the local council.
It is clear that on the night he would have won the candidacy had local members been allowed to vote for him.
Unprecedented walkout
Every political party has a system of vetting potential candidates and will not allow them to stand if it is thought they do not have the skills, experience or talent to become an MP.
That is simply not the case with Mahroof Hussain, who had already been shortlisted by the NEC for the vacant Middlesbrough seat.
He pulled out of that competition as soon as he heard his home town needed a new MP.
So what has happened to make the party pass him over and provoke an unprecedented walkout of the majority of its own activists from Tuesday night's selection meeting?
Well, Bradford West has happened.
Just nine months ago Labour picked a highly popular local councillor to defend its 6,000 majority.
George Galloway used his links with the Labour-led council as a punch bag. The result made political history.
So the "clean break" candidate is political unknown Sarah Champion who has been chief executive of a local children's hospice for a couple of years and before that an arts administrator in Manchester.
On first impressions she is determined, passionate and able - and she inherits a 10,000 majority and an unbroken list of Rotherham Labour MPs going back to the 1930s.
The question is whether that will be enough to wipe out the memories of her painful selection meeting.
Rotherham does have a history of the national party managers bringing in a favourite.
It happened in 1994 when the death of the sitting MP forced a snap by-election.
The candidate who went on to win was Denis MacShane.