Rotherham by-election: Walkout over Labour candidate choice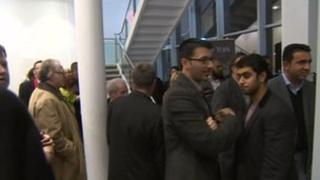 Dozens of Labour party members walked out of a meeting to decide who should stand in the by-election to replace disgraced Rotherham MP Denis MacShane.
Labour chose Sarah Champion, who runs a hospice in South Yorkshire, at the selection meeting on Tuesday night.
About 80 of the 114 party members present left in protest.
They were angry a shortlist drawn up by Labour's national executive did not include Rotherham-born Mahroof Hussain, a member of the local council.
Ms Champion, who is the chief executive of the Bluebell Wood Children's Hospice in North Anston, Rotherham, said: "I think it was absolutely right that people wanted to have their voice heard.
"Mahroof would have been a good candidate... but the party made its decision."
A Labour Party spokesman said: "We understand the anger of some of the members and they're entitled to their view, but it is crucial that Rotherham has a clean break from the past.
"Sarah Champion will be a fantastic candidate and can provide that fresh start."
The spokesman said many who walked out of the meeting had subsequently offered their support to Ms Champion
Eleven candidates
Mr MacShane, who had been an MP in Rotherham since 1994, stepped down on 2 November after he was found to have wrongly claimed at least £7,500 in expenses.
Labour's selection of Ms Champion means 11 candidates have been confirmed to contest the by-election which will be held on 29 November.
Self-employed business development contractor Michael Beckett has been selected for the Liberal Democrats, while businessman Simon Wilson will stand for the Conservative Party.
Former miner Ralph Dyson has been selected by the Trade Unionist and Socialist Coalition to fight for the seat.
Journalist Yvonne Ridley has been named as the Respect candidate and Marlene Guest is standing for the British National Party.
The UK Independence Party candidate is Jane Collins.
There are three people who are standing as independents - Clint Bristow, Simon Copley and Paul Dickinson.
David Wildgoose is representing the English Democrats.