Stalled Sheffield retail project to get £45m of public funds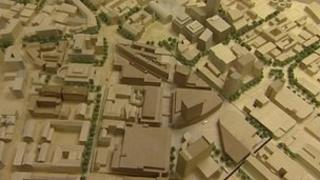 Sheffield's stalled Sevenstone retail scheme is to get £45m of public money pumped into it, in an attempt to get the project moving again.
The city council said it would use money from the newly-announced city deal scheme, which allows the authority to keep more of the revenue from local business rates.
The proposed £600m scheme in the city-centre would house about 100 shops.
Developer Hammerson put the project on hold in 2008 amid the economic slump.
The scheme suffered a further setback earlier this year when retailer John Lewis said it would not move from its existing site in the city to take up the flagship store in the new development.
'Chicken and egg'
In 2011 Sheffield City Council spent £10m on compulsorily purchasing empty shops in the area.
John Mothersole, chief executive of the council, said: "This money is the business rates that the new shops in Sevenstone will pay... it's the business rates that pay back the investment.
"What we've got now is a classic chicken and egg situation. Until Sevenstone is built the business rates aren't paid because the shops don't exist, but unless we can deal with the financial challenges that Sevenstone is facing because of the economic downturn, it will never be built, so we're trying to break this circle with this very innovative proposal."
The council said it hoped work would start on the scheme by 2014.