South Yorkshire Police costs could 'strangle' events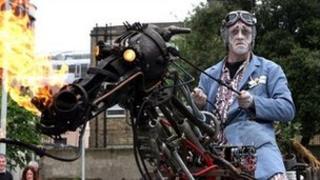 New charges being imposed by South Yorkshire Police could "strangle" future public events, according to the organiser of Sheffield's Fright Night.
The police have asked for £8,000 to help pay for their presence at the event for the first time in 12 years.
And the council could face a fee for this weekend's Christmas lights event.
It comes as it is revealed recent marches by the English Defence League (EDL) and National Front in Rotherham cost the force about £500,000.
Scott Barton is managing director of Yellow Bus Events, which organised last month's Fright Night, attended by about 40,000 people, and is involved in Sunday's Christmas lights switch-on.
'Right to charge'
He said: "The first we knew about this was less than five days before Fright Night happened this year.
"Have we really got to a point in society where the EDL and National Front can hold demonstrations, but families coming out, as they have in the case of Christmas lights since the 1960s, to mark the start of Christmas... the police are trying to view that it's outside normal duties, and they have a right to charge."
A spokesperson for South Yorkshire Police said: "This is in accordance with national policy regarding the recovery of police costs - the force has not asked for the full costs, recognising that these are public events.
"The policing of protests is different to the policing of events such as Fright Night... the police have a responsibility to protect communities and property while facilitating the rights to peaceful protest."
But Mr Barton said the £8,000 fee had increased the cost of the event by 40%.
He added: "This over time, if allowed, will strangle events in Sheffield that are already struggling for resources."
A spokesperson for Sheffield Council said: "We are currently in discussion with South Yorkshire Police on the whole issue of charges for major events held in the city centre."