Denis MacShane in expenses apology to Rotherham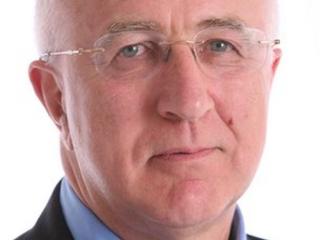 Ex-Labour minister Denis MacShane has apologised to the people of Rotherham after quitting as the town's MP because he wrongfully claimed expenses.
"I have let this wonderful town, its terrific people and my constituency down so very badly," he wrote in a letter to the Yorkshire Post newspaper.
Mr MacShane stepped down a week ago after a Parliamentary committee found he had submitted 19 false invoices.
The committee said it was the "gravest case" it had been asked to adjudicate.
It suggested that of the £12,900 claimed through false invoices, it was likely around £7,500 was "outside the rules", although Mr MacShane had repaid the entire £12,900.
'Folly and mistakes'
In a letter published in Friday's edition of the paper, Mr MacShane said: "How do I say sorry?
"I accept fully the responsibility for my actions. That I was at grievous fault there can be no doubt.
"I cannot convey how much I will miss Rotherham. I am not from South Yorkshire but the people took me into their bonds of friendship and made my young family...feel very much at home.
"I finish by apologising from the bottom of my heart for the damage I have done, I hope only temporarily, to the good name of Rotherham, through my folly and mistakes."
But the former MP again stressed no new information had been presented since details of his expenses were published in 2009 "along with what other MPs of that era had done".
"I did not flip my London home and make a huge personal profit," he said.
"I did not pay a partner or a child £40,000.
"My house has not changed or been improved using taxpayers' money.
"I did not claim thousands under the so-called petty cash heading without receipts."
'Invoices to himself'
Parliamentary Standards Commissioner John Lyon found Mr MacShane had entered 19 "misleading" expenses claims for thousands of pounds of research and translation services from a body called the European Policy Institute (EPI), signed by its supposed general manager.
However, the institute did not exist "in this form" by the time in question and the general manager's signature was provided by Mr MacShane himself or someone else "under his authority".
As the MP controlled the EPI's bank account, he was effectively "submitting invoices to himself and asking the parliamentary authorities to pay".
The case was referred to Scotland Yard in October 2010, but police took no action.
On Thursday, the Crown Prosecution Service confirmed its lawyers and police had met this week to consider reopening the criminal investigation.