PCC: South Yorkshire candidates fear low turnout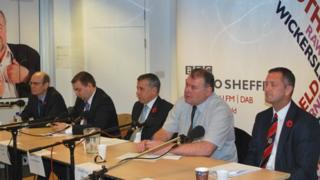 The five men standing for the post of South Yorkshire's first Police and Crime Commissioner (PCC) said a low voter turnout would not affect their mandate to do the job.
At a BBC Radio Sheffield debate they were asked whether they would accept the post if fewer than 10% voted.
It follows warnings that there could be the lowest election turnout ever.
Conservative candidate Nigel Bonson said if that happened the government should "rethink the situation".
He added: "I've stood as a candidate and I am committed to doing the job, and I would do it just as well if there was a 90% turnout or a 5% turnout."
Labour candidate Shaun Wright said he would be "disappointed" but not "surprised".
He said: "I wouldn't be surprised given the approach the government has taken. They've not funded these elections like they do with general elections, they've called it at an inappropriate time of year and they've not publicised it as much as they should have done.
"There is going to be a low turnout regardless but whoever gets the majority on the day will take up the role, it's as simple as that."
Jonathan Arnott, of UKIP, agreed that the elections were badly timed, and said the government had arranged the elections "on the cheap".
He added: "If there's a tiny turnout and you get only a few per cent of the population who have voted for the new police and crime commissioner, you've still got a police and crime commissioner.
"You'll still have a police and crime commissioner everywhere else in the country, so if you say 'oh well I won't take the job' they'll just hold a by-election with an even smaller turnout."
David Allen, from the English Democrats, said he would still do the job, but added: "I think it's very sad really. At least you can change (the position of PCC) after four years or after a period of time."
While Liberal Democrat Robert Teal responded: "The question seems to ask me to respect those who don't vote more than those who do vote. I would respect those who have voted and those who've voted for me so yes I would take the job."
Several members of the public asked questions about political independence.
The candidates each represent a political party, but insisted they would not take direction from their party leaders.
Leaflets from the Electoral Commission were sent to 21 million households last month, explaining what the police and crime commissioners will do.
Duties include agreeing budgets, setting strategic priorities and recruiting or dismissing chief constables.
The election takes place on 15 November.