Maltby Colliery owner plans to mothball mine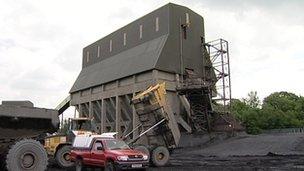 Plans have been announced to close a deep coal pit in South Yorkshire.
Hargreaves Services said Maltby Colliery, near Rotherham, was no longer viable on safety, geological and financial grounds after producing coal for more than 100 years.
About 540 staff at the mine were issued with redundancy notices last month.
Chris Kitchen, from the National Union of Mineworkers (NUM), said the union would work with Hargreaves Services to ensure Maltby remained open.
A final decision will be made after a consultation with staff and their union.
In a statement, Hargreaves Services said its board was proposing to mothball the site after reports showed geological problems had not "significantly reduced".
It said it remained "committed to exploring alternative employment opportunities for staff" who would be made redundant.
Chief executive officer Gordon Banham said: "We're in a position where we've got a pit with lots of gas and oil and that's meant that on two occasions men have had to come out using breathing apparatus and that risk is one that we're not prepared to take with the employees."
The company said it had considered alternative mining options for the site and had found none, but was offering the opportunity to staff and unions to table alternative proposals during the consultation process, which ends on 30 November.
Chris Kitchen, NUM General Secretary, said his members had expressed "disbelief and disappointment" at the company's announcement.
However, there was still "a glimmer of hope" about the mine's future as the firm had not said it would be completely closed, said Mr Kitchen.
"At the moment, all our efforts will go on coming up with a sustainable plan to keep Maltby," he said.
Rother Valley's Labour MP Kevin Barron said he hoped the mine had a future but he agreed it was unsafe.
Mr Barron, who used to work at the mine, said the decision was upsetting and he hoped the union could negotiate a way for the site to stay open.
He said: "The workforce would be the first to tell you it's unsafe, we shouldn't be down there.
"Hopefully the unions will see the information that's around now and take a decision. I am hoping for its future but obviously they have to look after the interests of everybody there."
Related Internet Links
The BBC is not responsible for the content of external sites.