PCC candidates' views on anti-social behaviour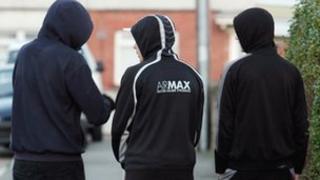 Anti-social behaviour in South Yorkshire could be tackled in a variety of ways, candidates running for the role of police and crime commissioners have said.
They were questioned by a resident of Longley in Sheffield as part of a BBC Look North debate involving all the candidates.
The resident, who has been the victim of anti-social behaviour, quizzed the five men who are hoping to take the PCC role in the election on 15 November.
South Yorkshire is topped only by London and Manchester in the number of incidents of bad behaviour, with 100,000 cases recorded in 2011 according to figures collated by HM Inspectorate of Constabulary.
'Hardened criminals'
Jonathan Arnott, who is representing UKIP, said: "What we need is a zero-tolerance policy.
"It cut out crime in New York and it cut out crime in Middlesbrough, I think it will cut out crime in South Yorkshire too.
"If you start to do something about the smaller offences then you will find that people do not become hardened criminals."
David Allen of the English Democrats said: "What I'd like to do is put warranted officers back on the beat - if that's possible because of the cost restrictions.
"Failing that, in Doncaster there's a scheme with the probation and they (offenders) cut the grass for churches and paint them - they do community work as part of their service.
"The people are the police and the police are the people so the local people also need to do their bit."
'Work together'
Conservative candidate for the PCC role Nigel Bonson said: "These problems aren't going to be solved by the police alone, let's face it
"It needs the right people working together to sort it out, with the community at the heart of that.
"But the community needs the support and empowerment of other agencies.
"In this case I'd see probation, local authority services and the police and others working together to sort out this local problem rather than sorting out problems that have come from Whitehall."
Robert Teal who is representing the Liberal Democrats said: "A lot of the things about anti-social behaviour are not just about policing.
"If young people have not got facilities, maybe provided by a local authority then there's no way that just policing is going to work.
"The main thing is this partnership approach; getting together with local councillors, the local authorities, getting together with schools and making sure they work with young people as well as strictly enforcing the rules."
'Uniformed presence'
Labour candidate Shaun Wright said more officers and restorative justice were needed.
He said: "The first thing to do is invest in neighbourhood policing.
"We don't have enough officers on the beat, PCSOs, a uniformed presence patrolling and talking to local people to find out what the problems are.
"Another issue being raised is people don't get a response when they do report things, so we're pledging that every incident reported to the police should get a response within 24 hours.
"Victims should be given more ownership of a crime, such as introducing an online 'track my crime' service where you can go on and identify where the police are in terms of resolving that particular crime."
Elections for police and crime commisioners are taking place in all police areas of England Wales outside London on 15 November.