Consultation on Rotherham Hospital job losses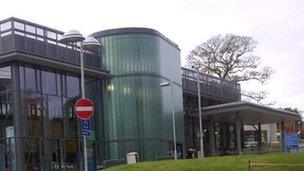 A hospital trust in South Yorkshire which announced 750 job losses has said it will review the number of job cuts after a consultation.
Rotherham NHS Foundation Trust chief executive Brian James told the BBC a consultation would be held in December.
Mr James said they would now show staff the plans and "invite them to come back with their alternative views on how we might do things differently".
The trust needs to make savings of £50m over the next four years.
Pam Johnson, regional head of health for Unison, said: "Let's look at where money can be found to keep the staffing levels where they should be and provide the services to the people of Rotherham before we start cutting back."
A report presented to the board said "compulsory redundancies are inevitable".
The report, entitled Creating Certainty in an Uncertain World, said "radical change" was necessary for the trust to save £50m from its £220m budget before 2015, and meet government targets.
It stated: "To remain financially viable we will need to reduce our workforce of 3,800 staff by some 750 posts by 2015" which is about 20% of the staffing.
Mr James said: "Unfortunately the scale of that reduction is so significant, that it is bound to impact jobs.
"We've made it very clear that there may have to be redundancies, but to honest with you, until we have gone through the process I don't know how many we will be able to lose through natural turnover and how many will have to be made redundant."
Unison branch secretary, Gill Garnett, who works at the hospital as an accident and emergency health care assistant, said staff were "anxious and worried" about the number of job cuts.
"They're deciding what they're doing and we're the last to know," she said. "I feel really angry. It really is just hitting on morale."
Related Internet Links
The BBC is not responsible for the content of external sites.