Hatfield carbon capture scheme fails in UK funding bid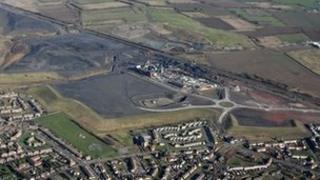 Plans for a £5bn power station and carbon capture and storage (CCS) project in South Yorkshire have failed to win government backing.
Four CCS schemes have been shortlisted to win £1bn of government funding but 2Co Energy's project in Hatfield, near Doncaster, did not make the list.
The Hatfield plant would have been able to supply one million homes with low carbon electricity by the end of 2016.
2Co Energy said without UK funding it could not take the project further.
Evaluation process
The power station in Hatfield would have captured millions of tonnes of carbon dioxide which would then be stored on North Sea oil fields.
2Co Energy was awarded planning permission for the project in 2009 and £164m of EU funding. It had hoped to start construction next year.
It is thought the project would have created 3,800 construction jobs and another 600 when it was in operation.
In a statement, the company said it was "enormously disappointed" not to have made the shortlist.
Lewis Gillies, chief executive officer, said: "This is truly disappointing news for the Doncaster area where we would have built this plant and for our world-class project team working to deliver it.
"We are trying to come to terms with how the UK's most advanced project that has twice been selected by the EU for funding and is currently sitting as Europe's top-ranked project has not even made it to the UK's shortlist."
The Department of Energy and Climate Change said the development of CCS technology, if developed at scale, could allow the safe removal and storage of harmful carbon emissions from coal and gas plants.
A spokesman said: "The four were selected from eight bids received after a thorough evaluation process that considered project deliverability, value for money, and the government's timetable to deliver a cost-competitive CCS industry in the 2020s."
The department said the assessment criteria used by the European Commission, which awarded funding to the Hatfield scheme, and the UK government when considering bids was different.