South Yorkshire firefighters rescue pregnant horse from mud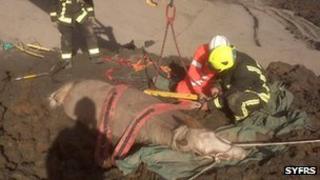 Firefighters and construction workers have rescued a pregnant mare trapped neck-deep in mud near Doncaster.
South Yorkshire Fire and Rescue Service said the horse got into trouble after wandering into a road-building site at Balby from an adjoining field.
Members of the service's Technical Rescue Unit saved the animal with the help of a mechanical digger operated by one of the construction workers.
The mare was not hurt in the incident and was returned to its owners.