Olympic glass wall of fame unveiled in Sheffield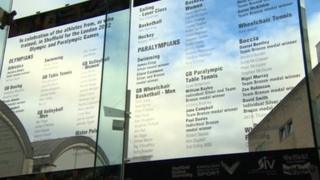 The names of Sheffield's Olympians and Paralympians have been etched onto a glass wall in the city's Winter Garden.
Gold medallists Jessica Ennis, Nicola Adams and Luke Campbell are among the names on the list, which the council said was designed to "inspire" people.
As well as competitors from Sheffield, it recognises those who trained in the city such as diver Monique Gladding.
She said: "Sheffield is just such a great city when it comes to sport and backing their athletes."
"The facilities I've had to train in, the coaching staff, the support I've had and the city right behind us from the start, without Sheffield I wouldn't be the athlete I am today," she added.
"I came here for a reason and it's fantastic to be part of the city and a real honour, and I feel very special to be here."
Leader of Sheffield City Council, Cllr Julia Dore, said: "We want a legacy that will inspire young people and everyone to get involved in sport and activities so what this does is on a daily basis people passing it will see the names of those athletes, those sports people who worked so hard to achieve something."