Sheffield flood defence scheme 'could save businesses'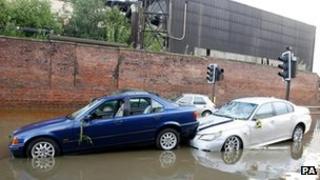 About 325 businesses in Sheffield could be saved from flooding if plans for a £10m protection scheme get the go ahead, Sheffield Council has said.
River defences had already been completed in parts of the city which were flooded when the river Don broke its banks in 2007, the council said.
It intends to work with the Environment Agency and the private sector to extend defences as far as Blackburn Brook.
The plan will be examined by Sheffield Council's cabinet on Wednesday.
'Minimise risk'
Factories and stores, including Meadowhall shopping centre, were badly damaged by flooding in 2007 and cost hundreds of millions of pounds to repair.
Councillor Jack Scott, cabinet member for environment, waste and streetscene, said the lower Don Valley was a critical area for the region's economy.
"The 2007 event alone caused millions of pounds worth of damage to local businesses and many simply couldn't survive another," said Mr Scott.
"We need to make sure that we do everything we can to minimise the risk to existing and new businesses."
If given the go-ahead, Sheffield's additional flood defences are expected to be built in 2014.