Ben Needham: Police finish Kos search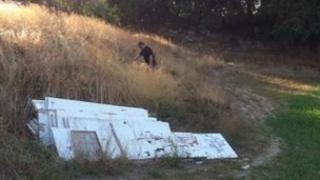 Specialist police officers searching for the missing Sheffield youngster Ben Needham have called off their search on the Greek island of Kos.
The team of officers has been checking a site close to the farmhouse where Ben's family was staying when he went missing in 1991, aged 21 months.
Nothing linked to Ben has been found during the week-long search.
Ben's mother, Kerry Needham, has always maintained her son is alive and was probably abducted.
'Difficult and distressing'
Det Supt Matt Fenwick, who has been leading the search, said: "We found a lot of animal bones, toys, rubbish, beer cans and so forth.
"It's a been a difficult, but very thorough examination of the land.
"Even after the search we've done, you can never say 100%, but the search has been so extensive and thorough that once complete it will be very unlikely he could be in the specific locations we've searched."
Mr Fenwick said he had put together the best search team possible.
He added: "It's been difficult and distressing for Kerry as we have been following a line of inquiry that could only have meant Ben had died."