Rotherham Hospital to cut 750 jobs by 2015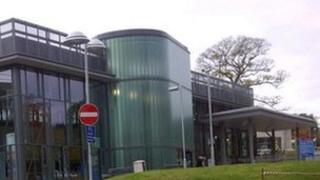 A hospital trust in South Yorkshire has announced it will be cutting 750 jobs, about 20% of its workforce, by 2015.
Rotherham NHS Foundation Trust said it needed a "smaller hospital, with substantially fewer beds" and a smaller workforce to save £50m over the next four years.
A report presented to the board by its chief executive said "compulsory redundancies are inevitable".
Unison has blamed the cuts on mismanagement.
Chief executive Brian James said: "The NHS continues to face tough times financially.
"Our staff are our biggest asset, but also our biggest cost and we are exploring how to best manage and substantially reduce our costs whilst ensuring we continue to provide quality healthcare."
'Poor care'
The report, entitled Creating Certainty in an Uncertain World, said "radical change" was necessary for the trust to save £50m from its £220m budget before 2015, and meet government targets.
Unions and patients have reacted angrily to the announcement.
Unison regional organiser Sue Cookman said it was a "kneejerk reaction" from the trust.
She said: "Nothing's new about the savings. To talk about culling 750 jobs seems to be highly irresponsible and will have a massive impact on patient care.
"I think the patients and staff are already feeling the strain, feeling there aren't enough nurses, feeling that things are taking too long."
Lorraine White, from Rotherham, an outpatient at the hospital, said: "It's unacceptable. There doesn't appear to be enough staff to cover the roles that are required already.
"This is my local hospital and I'd like to think it was going to stay with at least the amount of staff that it has right now. I can't imagine that it will function effectively with less staff."
Katherine Murphy, Chief Executive of The Patients' Association, said the £20bn of efficiency savings the NHS was having to make was "affecting the services patients receive".
She said: "Evidence from our research and calls to our helpline demonstrate that waiting times are rising, treatments are being rationed and too many are experiencing poor care.
"The government needs to urgently consider the financial pressure trusts are facing and the inevitable impact on patients."
Morale concerns
One staff member, who did not want to be named, told the BBC he was not aware of the plans.
He said: "I think it would be quite nice to see some redundancies from the administrative side of the NHS, rather than the clinical and nursing side... I think there is a lot of unnecessary staff in the admin department.
"I think without further investment in the NHS we're really going to struggle to deliver the service provision when we have an aging population.
"More and more people are seeking hospital attendances as they go on and yet we're shutting hospital beds and making staff redundant."
The British Medical Association said it was "surprised by the scale of the job cuts".
A spokesperson said: "We are also concerned about the impact that this decision will have on patients and the morale of staff.
"It is difficult to conceive of a way in which you can make staff cuts of this magnitude without a reduction in the quality of patient care."
The Department of Health said it was increasing funding for the NHS by £12.5bn until 2015.
A spokesman added: "Hospitals should be looking at ways to be more efficient but that doesn't mean lowering the quality of care, it means getting the best services to meet patients' needs and the best value for every pound the NHS spends."