Barnsley woman's remains exhumed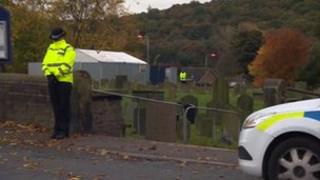 A woman's body has been exhumed after a coroner called for a new investigation into her death.
South Yorkshire Police are not naming the woman at her family's request but said she was from Barnsley and aged in her 30s when she died last year.
The exhumation took place at All Saints and St James Church in Silkstone. The church and its grounds have reopened.
Det Supt Dave Barraclough said a post-mortem examination had taken place and further forensic tests were required.
A police spokesman said earlier: "The initial post-mortem was unable to establish the cause of death and as there was nothing to suggest any suspicious circumstances the family was allowed to continue with the funeral arrangements in the normal way.
"At the start of the coroner's inquest, a family member raised concerns in a letter to the coroner as to the cause of the woman's death.
"As a result, this was referred to South Yorkshire Police to investigate."