Doncaster hosts Yorkshire miners' remembrance service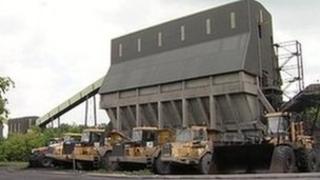 A remembrance service for miners killed in accidents across Yorkshire is set to be held at Doncaster Minster.
The Yorkshire National Union of Mineworkers (NUM) service will be led by the Bishop of Doncaster, the Right Reverend Peter Burrows.
The annual service follows news that one of only three surviving deep mines in Yorkshire, Maltby, could close.
The Maltby Miners Welfare Band will perform at the service which begins at 14:00 BST.
Bishop Burrows said: "I hear many stories about the impact of the mining industry on the local communities, individuals and economy.
"It is clear that this had a huge impact on the lives of many and it is humbling to hear people's stories, even many years after the closure of many local pits."
In 1984, before the miners' strike, Yorkshire had 56 collieries and the industry employed thousands of people.
Just three mines remain at Maltby and Hatfield in South Yorkshire and Kellingley in North Yorkshire.
More than 500 staff at Maltby were issued with a 90-day notice of redundancy on 8 October.
The mine's owner, Hargreaves Services, said unusually high levels of water, oil and gas were found at the site which could result in its closure.