Ben Needham: Grandfather joins Kos search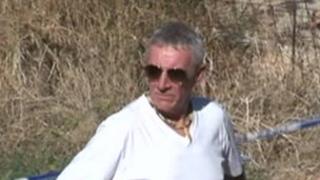 The grandfather of a child, who went missing on a Greek island 21 years ago, has joined a new police search.
Officers are searching land on Kos for the remains of Ben Needham, from Sheffield, who was 21 months old when he vanished in 1991.
Eddie Needham and his wife were looking after Ben on the day he disappeared.
British police forces helping Greek authorities search near the family's former farmhouse said so far no significant discoveries had been made.
Specialist search dogs and diggers are searching a pile of rubble where the little boy was last seen.
The now overgrown mound is next to the farmhouse which Ben's grandparents were renovating at the time.
Eddie Needham, 63, was asked to show officers how the area had changed over the years.
Det Sup Matt Fenwick, of South Yorkshire Police, who is leading the British team, said: "He [Mr Needham] really is emotional about this. It is difficult for him to come back to the scene.
"He is not comfortable with it but he knows it is something he has to do."
Ben was playing outside the property when he disappeared.
One theory is that the toddler could have been accidentally buried beneath building material which had been dumped at the time.
Despite a number of possible sightings, no trace of the boy has been found.
Previous theories on Ben's disappearance have included murder or abduction.
Ben's mother, Kerry Needham, has always said that she believes her son is still alive but has supported the new search.
Mrs Needham, supported by a police family liaison officer, will also travel to Kos during the search.
The search is expected to last for 10 days.