Sheffield students start campaign to save campus cats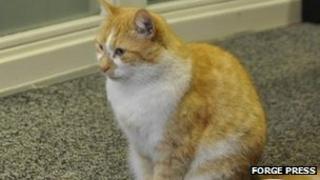 Students are campaigning to save two stray cats who visit the University of Sheffield from being removed from the campus.
The university said the cats, named Taz and Charlie, could not be allowed into its buildings due to health and safety regulations.
But a student newspaper has begun a petition to allow the cats to stay.
The university said the animals would be sent to a cat charity if nobody was willing to rehome them.
Alisha Rouse, editor of the Forge Press student newspaper, said staff at the university's Kroto Research Institute had offered to look after the cats.
'Strict legal duty'
Ms Rouse said she was surprised at the level of support for Taz and Charlie, after more than 200 people signed the online petition to save them.
She said students had grouped together to pay to immunise and feed the cats.
"I think they feel though the university gave them no consultation, and these are their pets and belong in their community," she said.
The University of Sheffield said that staff have been asked not to let the cats into university buildings "as people working in the area are sensitive to animal fur and suffer from respiratory conditions".
In a statement, the university said it had a "strict legal duty of care to its staff" and their "wellbeing" was "paramount".
"It is not appropriate to have animals in the building other than those which are essential for the safety of staff, students and visitors, for example guide dogs," the university said.