Sheffield airport runway plea to Vince Cable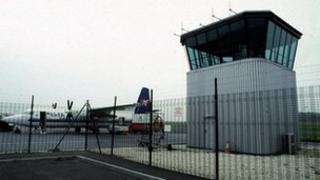 Business leaders have asked the Business Secretary Vince Cable to step in to stop the former Sheffield City Airport's runway being ripped up.
The business park that occupies the site has plans to expand and redevelop the runway area.
But the Federation of Small Businesses (FSB) said this would prevent it ever being used for commercial aviation in the future.
The airport closed in 2008 after reporting losses of more than £1m.
Sheffield Business Park plans to rip up the runway and build offices, warehouses and retail units, which the council said would create 3,000 jobs.
"Because there's no airport and it takes a round trip of at least 2-3 hours from Doncaster to Sheffield, (businesses) haven't moved into Sheffield.
"What we're interested in... is large businesses, small businesses, medium sized businesses expanding, and being the only major city without a city airport is detrimental to that fate.
"We have therefore written to the Business Minister Vince Cable to exhort him to ensure that any redevelopment of the Sheffield City Airport site... is proscribed until an independent public enquiry is held."
James Newman, chairman of the Sheffield City Region Local Enterprise Partnership, said: "The airport was clearly not viable ten years ago, it's too short.
"We're now putting our hopes into the development of the Sheffield Doncaster airport.
"There's a new road about to be built between the M18 into the airport which will actually mean that the Doncaster Sheffield airport will be within 10-15 minutes of (the business park)."