Ben Needham disappearance: A 21-year-old mystery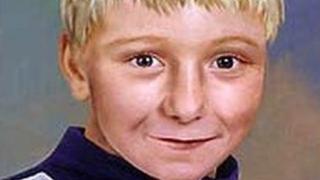 The long search to find Ben Needham started in 1991 when the 21-month-old toddler went missing while with his family on the Greek island of Kos.
Ben, who was born in Sheffield, South Yorkshire, vanished while on holiday from outside the farmhouse his grandparents were renovating. His maternal grandparents had emigrated to the island.
He has not been seen since, despite regular appeals over the years by his family and the British authorities.
Theories about his disappearance have included murder or abduction. It was felt possible he was sold to a family who could not have a child.
Now there is a theory he was buried under rubble during building work, prompting the new search which started on Friday.
Whatever the theories, Ben's mother, Kerry Keedham, continues to believe her child is alive.
In 2000 a South Yorkshire Police spokesman said: "Although there have been hundreds of possible sightings and certainly in the first of couple of years of his disappearance, none have ever led anywhere close to him."
'Facial progression'
That year computer technology called "facial progression" was used to create a picture of how the missing toddler might look as a 10-year-old - based on the last known photograph of him as a child and on family resemblances.
Another image of Ben was digitally created to show how he might look aged 21.
A website to give out information about Ben was first launched in 2003 and continues to appeal for information.
The same year a private detective working for the Needham family examined claims that local police did not investigate the case properly at the time.
The family also offered a reward of 150,000 euros (£105,000) for information about their son's whereabouts.
'Like a mirror image'
The disappearance of Madeleine McCann, in Portugal in 2007, brought back unpleasant memories for Kerry Needham.
"It was like a mirror image, the look on her face, the fear, the worry, everything," she said. "It was like seeing myself 15 years ago."
The Needham family made a plea on Ben's 21st birthday in October 2010 for a new investigation into his disappearance.
South Yorkshire Police said they were supporting the Needham family "but primacy for the investigation will always lie with the Greek authorities".
Mrs Needham said at the time she was finding it increasingly difficult to cope with her son's absence as every year passed.
In January, information relating to the search for Ben was stolen in a burglary at her home. Thieves took a laptop during a break-in at her house in Sheffield.
Ms Needham said the computer contained photos of Ben and was a "lifeline" in the search for her missing son.
In May reports said Greek police believed Ben may have been buried under rubble near the family's farmhouse.
Ms Needham said: "I was horrified when I saw that. I know my son is alive and well and out there somewhere."
Now experts from police forces across the UK have flown out to assist Greek authorities in their search. Dogs trained to search for human remains will be used.