Tesco drivers reject new offer in jobs dispute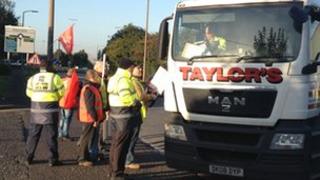 Lorry drivers at a Tesco distribution centre in South Yorkshire have rejected an offer to settle a dispute over possible job losses.
The union Unite said it meant further industrial action from its 180 driver members was "on the cards".
Talks took place on Friday, after a 48-hour strike at the site in Doncaster earlier this month.
The drivers, employed by Eddie Stobart, are angry at planned cuts to the haulage firm's operations at the site.
Eddie Stobart, which took over operations from Tesco at the site in August, announced the reorganisation in September.
A total of 183 lorry drivers' jobs at the Doncaster centre were threatened if the plans went ahead, Unite said.
Harriet Eisner, Unite regional officer, said: "Our members had put great faith in today's talks, and that their new employer Eddie Stobart would be putting a fair offer on the table.
"They are very disappointed and extremely angry that this was not the case.
"Further industrial action is very much on the cards, unless the company comes back with an improved offer."
Eddie Stobart Ltd has not commented.