Humans 'replace' books at library in Barnsley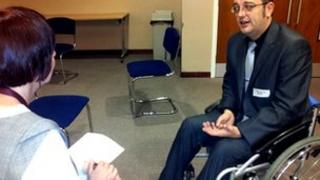 People who have faced discrimination or prejudice in Barnsley because of their disability, race or sexual orientation have become "living, breathing books".
Visitors to the town's library on Wednesday were able to "borrow" the volunteers for 10-minute conversations.
The Human Library event aimed to break down barriers and stigma by letting people ask "daft questions" they would not normally be able to.
It is the second year the event has been held in Barnsley.
'Fascinating'
Rachel Sanderson chose to be loaned out to try to give people a better understanding of her condition, fibromyalgia:
"People tend to think that I don't look ill, and that I shouldn't be using crutches because I don't look any different from anyone else.
"But I know how much it hurts if I don't use them."
Rachel said she had been a "human book" before. She said: "It was fascinating last time round.
"I spoke to the mayor elect, who was curious because one of her constituents has fibromyalgia and she wanted to know how better to help her and what sort of problems she might face on a day to day basis. I was able to help a little bit I think."
Jules Horsler, Barnsley Council's equality manager, said: "It was an idea which came from disabled people who work for the council.
"We thought, 'how do we get the message across? How can we help people understand us better'?
"It's an opportunity for people to ask those questions which they might think are daft but actually you don't get the chance to ask very often."