Maltby Colliery through the years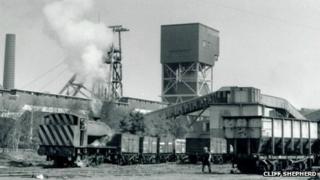 Maltby Colliery is one of a handful of deep mines remaining in England.
It produces more than a million tonnes of coal a year, but at its peak produced twice that amount.
The colliery was sunk in 1908 on the outskirts of Maltby in South Yorkshire. Three years later a model town of more than 1,000 houses was built for the new workforce.
It turned a small rural village with a population of just 700 at the turn of the 20th Century into a mining town.
Rother Valley Labour MP Kevin Barron said the whole area was characterised by coal mining.
"You go round my constituency of the Rother Valley, why is Thurcroft there? Why is Dinnington there?
"It's because the coal mines were sunk there and it was coal mining that shaped the communities in South Yorkshire."
'Steel, coal or Army'
Mr Barron started working at Maltby Colliery when he was 15 years old.
"I went to what was then a secondary modern school and really, as far as the boys were concerned, it was either steel, coal, or the Army really and I just followed my father and older brother into Maltby Colliery."
Now, most of the people working at the colliery are not from Maltby and in the past men travelled from all over the country to work there.
Mr Barron said: "On the estate I lived in when I first lived in Maltby... it must have been 60% of people from Lanarkshire on there because their mines were closing, they were moving down as well to work in these big collieries like Maltby.
"Coal mining was very much about moving around... it was a trade where you had to move to where the work was."
The geological problems that emerged at Maltby in 2012 were not the first challenge faced by the colliery.
In 1923, 27 men were killed in an explosion in the mine and in 2009 an employee, Jack Fisher, died there.
It also saw picketing violence during the miners' strike in the mid-1980s and near-closure in the late-90s.
Several different seams of coal have been worked by the colliery in the past 100 years, including Barnsley, Parkgate and Swallow Wood.
When Hargreaves Services bought the colliery from UK Coal in 2007, mining was expected to continue there until 2015.
In May 2012 though the company said "unusual geological conditions" had emerged, with excess levels of water, gas and oil, which could lead to the colliery closing next year.
But Mr Barron said there was a future for Maltby without the mine.
"Look at the Dinnington colliery site, which was geared for job creation.
"It is a fantastic success in terms of private sector jobs particularly and there's room for more.
"If Maltby colliery closes it could be used for things such as that to regenerate the local economy and to make sure that there is work on the site, but it won't be coal mining."