Sheffield City Council to axe 'hundreds of jobs'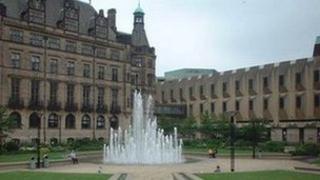 Hundreds of Sheffield City Council staff are to lose their jobs in the next year, the authority has warned.
It said it had to save £50m from its 2013-2014 budget, £10m more than initially expected.
Job losses are expected to be in the "high hundreds" and the council warned nearly every service faced cuts.
The Labour-run authority said the drop in its budget over the past two years equated to a £280 cut for every resident in Sheffield.
The council has already shed 1,300 jobs over the past two years.
Chief executive John Mothersole said the problems faced by the authority were probably most difficult since the challenges the city faced at end of World War II.
He said: "This time next year we will be cutting into the bone of services in this city. It's not a political statement, it's a logical one.
"These are probably the toughest time the city has faced since 1945. The city can come through it but it will be painful and it will be different."
The authority had been expecting to save £40m next year but changes to council tax benefit and business rates have meant a further £10m cut has been added on.
The council has to set its budget by February but it will only find out in December exactly how much money it will have to spend on services.
Julie Dore, leader of the council, has attacked the government on its handling of council grants.
She said: "I'm extremely angry at a government that do not have a clue about the lives of the decent working people in Sheffield.
"This is not the way to run financial services in this country. Now we're into the realms of serious changes to services and job cuts."
The council has already announced it wants to freeze staff increment rises for a third year to try to save £5m.
Unions are discussing the new terms and conditions with members.