Maltby could lose 'jewel in the ground' if mine closes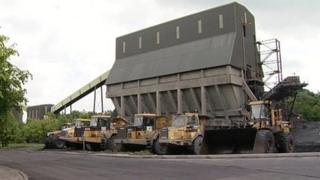 Maltby colliery used to be a "jewel in the ground" according to one former miner, Ken, who worked down the pit for 40 years.
He, like many people on the town's main street on Monday, said it would be "terrible" if the mine closed for good, as hundreds of men would struggle to find new jobs.
Staff at Maltby Colliery were given 90 days notice of redundancy on Monday.
But Ken, who is now 80 years old, said the safety of the men down the pit was very important: "You've got to think about the people down there, years ago there used to be oil dropping down on to men's backs.
"There's millions of tonnes of coal down there that'll just be left to waste."
'No jobs'
Ernest Pinkney got a job cutting coal in the mine as a teenager in 1956, and stayed there for 36 years.
He said he would be sad to see it close: "It's very important to Maltby, and there's no jobs for nobody now."
About 540 people work at the colliery, but in this bustling South Yorkshire town of 17,000, its closure would be unlikely to have the same impact as if it had closed in the past century.
Maureen Connolly, who lives in the town, said: "Maltby isn't totally dependent on mining anymore, but lots of families here are, and it won't help the social deprivation of the area.
"We need some scientific evidence that it needs to close, done by an independent company."
One local businessman, hairdresser Paul Markham, said if the mine did close it would not make much difference, as he thought most of the pitworkers no longer lived in Maltby.
However he did urge the prime minister to pay a visit: "There are very few job prospects here, Mr Cameron needs to come up here and see the North."
The colliery opened in 1908 and previously faced closure in the 1990s.
UK Coal sold it to its current owners, Hargreaves Services, in 2007 for £21.5m.
Hargreaves Services said a decision over the colliery's future will be made once all the data on its geological problems was in.
National Union of Mineworkers branch secretary Dave Price said he still hoped the mine could be saved.
"The message is to make sure we all stay upbeat, all stay focused on what we're trying to achieve, and we make this mine as difficult as possible for these people to shut."