Sheffield Cathedral gets £1.3m lottery grant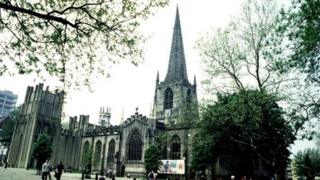 Sheffield Cathedral has been awarded £1.3million in lottery money to creating a new entrance and improve access to the building.
New learning and exhibition spaces will be created as part of the refurbishment, along with a new lighting system and signage.
The Heritage Lottery Fund said the work would bring the Cathedral "to life for the next generation".
The fund also awarded £895,700 to the Abbeydale Industrial Hamlet.
Cathedral Dean Peter Bradley said: "The grant will be used to build a thrilling new entrance, full of light, so that it is much easier to come into the building.
"Just as importantly... we will now be able to develop many new ways for visitors, especially young people, to access, understand and enjoy our common heritage."
The Heritage Lottery Fund also awarded nearly £900,000 to try to turn a former steel works into one of Sheffield's star attractions.
Abbeydale Industrial Hamlet dates back to the 13th century and claims to feature the only intact crucible steel furnace in the world.
The lottery award will be used to restore water-wheels and machinery and to build a heritage and learning centre.