Sheffield City Council proposes pay freeze for third year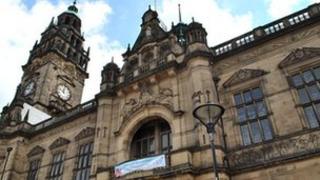 Workers at Sheffield City Council have been asked to forgo a pay rise for the third year running.
To cut costs the authority froze annual 1% increases for staff for two years from 2011. It now plans to extend the freeze until 2014.
The proposals could save around £5m, council officials said.
Trade union Unison, said staff would be "annoyed" by the plan and already faced financial difficulties due to the existing freeze.
The Labour-run council said it had saved £8m over the last two years through the increment freeze and other employee schemes such as buying additional leave, career breaks, voluntary reduction in hours, voluntary severance and voluntary retirement.
'Family pressure'
Julie Toner, director of human resources at the council, said: "We are under no illusion that the challenges ahead for the budget are tough and as a responsible organisation we have to consider all the ways we can to make further savings."
She added that extending the freeze was a pragmatic way to save the council money and protect services and jobs.
But John Mordecai, chair of the Sheffield branch of Unison, said: "We're really annoyed about it. People are saying they are finding it increasingly difficult to make ends meet.
"Inflation hasn't frozen, the cost of living has gone up in a variety of ways and that is putting pressure on our members who have families."
The GMB Union in Sheffield said it would meet on 8 October to discuss the issue.