South Yorkshire fire cuts: 'Seven stations could close'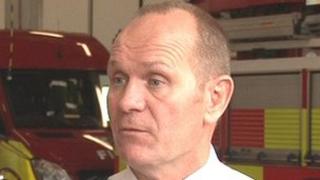 A third of South Yorkshire's fire stations may have to close with the loss of 150 jobs, the county's most senior fire officer has warned.
Chief Fire Officer Jamie Courtney said he fears the government would announce a £10m budget cut in December, on top of a £4.7m cut already made.
Seven out of South Yorkshire's 23 fire stations were likely to face closure as a result, said Mr Courtney.
A government spokesman said Mr Courtney's comments were "premature".
'Very concerned'
Under plans already announced earlier this year, four fire stations in Royston, near Barnsley and Sheffield's Darnall, Mansfield Road and part-time station at Mosborough would be closed.
They would be replaced by two new fire stations at Sheffield Parkway and Birley.
About 108 full-time jobs would go as staff either retired or left the service, the fire service had previously said.
But Mr Courtney said he is concerned the Department for Communities and Local Government would announce a further £10m reduction in South Yorkshire's funding before the end of the year, meaning the closure of seven more fire stations.
That cut would have "very serious" implications, said Mr Courtney.
"We're very concerned these cuts will not only impact on our intervention at emergencies, but also on the work we've been doing for years around making people safer in their homes," he said.
"The impact of closing fire stations is in the time it takes to get to incidents which will inevitably get longer.
"We would seek where possible to spread the impact, but fewer stations means longer response times, so inevitably the risk will increase."
A Department for Communities and Local Government spokesman said a consultation over the future funding of local government, which included the funding of local fire authorities, had only just closed.
All responses made during that consultation were being considered by the department and the results would be announced "in due course", he added.