No Hillsborough apology to Kelvin MacKenzie from police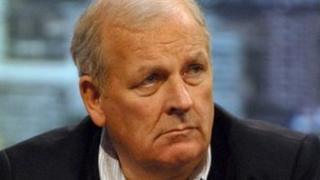 South Yorkshire's chief constable says his force will not apologise to former Sun editor Kelvin MacKenzie over fallout from the Hillsborough disaster.
Mr McKenzie's lawyers sought an apology for the "vilification" he had received after false accusations were passed off as fact in his newspaper.
Mr MacKenzie claimed senior officers were the source for the story.
Chief Constable David Crompton said Mr MacKenzie was responsible for the article's headline "The Truth".
Mr MacKenzie printed the front page story shortly after the 1989 disaster.
People in Liverpool boycotted The Sun as the article claimed fans pickpocketed the dead and urinated on police.
'Accept responsibility'
The Hillsborough Independent Inquiry report, which was published two weeks ago, said there was no evidence to support the allegations in the paper.
Mr MacKenzie, writing in The Spectator magazine, said he suffered "personal vilification for decades" as a result of the newspaper's reporting of the disaster.
The former editor claimed police patrols have been increased around his house and he said he faced a "physical danger" if he ever went to Liverpool.
Mr MacKenzie wrote, "But the people who have got away scot-free are South Yorkshire Police," adding he is seeking recompense for "the lies their officers told".
In a statement David Crompton said: "SYP have received a letter from Kelvin MacKenzie's lawyers, which demands the force makes an apology to him.
"We have publicly apologised to the Hillsborough families and the Liverpool fans but we will not apologise to Mr MacKenzie.
"He chose to write his own headline and he should accept responsibility for it."