Maltby Colliery at risk of closure, Hargreaves Services says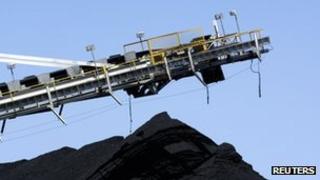 A deep coal mine in South Yorkshire which is one of the last left in the country is at risk of closure, its owners have warned.
Maltby Colliery in Rotherham, which employs about 500 people, was forced to abandon a new "panel" of coal due to safety fears earlier in the year.
Unusually high levels of water, oil and gas were found at the site.
Owners Hargreaves Services said the results of a full investigation were expected later this month.
A spokesperson said: "We anticipate that the abandonment of the T125 panel would lead to the mothballing or even closure of the mine as it would probably be uneconomic to switch production to a later panel due to the long face gap entailed."
The mine produces in excess of one million tonnes of coal a year, with 60% of its supply used by Europe's largest coal-fired power station, Drax in the East Riding of Yorkshire.
Since Hargreaves issued a profit warning in May it said its share price had fallen by 20%.
However chief executive Gordon Banham insists the company is strong enough to absorb any possible closure after finding international coal with a similar specification to Maltby coal.
Maltby Colliery, which has produced coal for more than 100 years, was bought by Hargreaves Services in February 2007.