Giraffes move to new home at Yorkshire Wildlife Park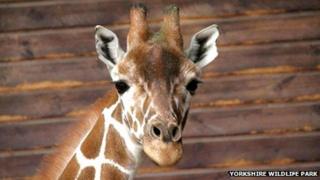 Four giraffes have moved into a new £350,000 enclosure at Yorkshire Wildlife Park.
They have come from three different locations - Copenhagen in Denmark, Woburn Safari Park in Bedfordshire and West Midlands Safari Park.
The Yorkshire park decided to give the giraffes a new home after visitors were asked which species they wanted to see.
All four giraffes are male, but the park said it hoped to start a breeding group in the future.
Two-year-old Palle arrived at the park near Doncaster on Wednesday after a day-long journey from Copenhagen.
Jambo, a two-year-old endangered Rothschild's giraffe, joined him from Woburn Safari Park in Bedfordshire on Thursday.
They have now been followed by two fully-grown animals, 12-year-old Jasper and seven-year-old Behansin, who both used to live at West Midlands Safari Park in Bewdley, Worcestershire.
Yorkshire Wildlife Park (YWP) director Cheryl Williams said: "We are absolutely delighted to be welcoming the four giraffes, which include one endangered Rothschild's giraffe to YWP whilst delivering our visitors what they wanted most.
"Whilst the enclosure will hold a bachelor group of males initially, we hope in time that we will be able to set up a breeding group in the future."
The enclosure can house up to 16 giraffes, which will be able to roam the 16-acre reserve in warm weather.