Sheffield recycling workers suspend strike action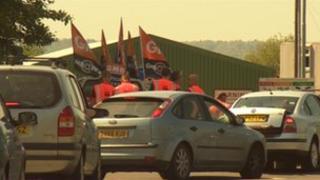 Workers at recycling centres in Sheffield have suspended their industrial action in an attempt to help the waste disposal firm win more work.
GMB members have been involved in a dispute with Sova Recycling since 2011, after the firm cut their working hours.
The company said it was trying to secure new business which would allow it to increase the number of hours it could offer staff.
The GMB said it was suspending the strike action until October.
GMB regional organiser Peter Davies said that Sova had informed him that it would know if it had won a bid for new work in early October.
Mr Davies said: "It's a bid for more recycling for their operation and it will resolve our issues with dispute if they get it.
"I think carrying on with the industrial action would only jeopardise that bidding process.
"So we've decided to suspend that industrial action and support Sovas's efforts to win that tender."
Sova Recycling said it was unable to comment on the bid. The firm manages five recycling centres for Sheffield City Council.
Previously, the council said the cut in opening hours at its recycling facilities was because it was facing "massive cuts" in government funding.
Union members voted to reject a 10% cut in hours offered by Sova, and have carried out a number of strikes over the last few months.