South Yorkshire PCC candidate Gillian Radcliffe pulls out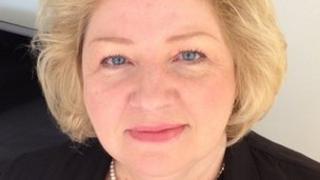 A candidate for the Police and Crime Commissioner post in South Yorkshire has pulled out of the election saying she cannot afford to fund her campaign.
Independent candidate Gillian Radcliffe said: "An expert in political campaigns has told me that even 'doing it on the cheap' would cost at least £50,000.
"I simply don't have that sort of money, or anything like it."
She said she had expected to "do things on a shoestring but... I was naive about how much it would cost".
Ms Radcliffe added: "I now see that, in an area like South Yorkshire, where there are almost a million potential voters to reach, I would need a very extensive programme of activity and publicity. That comes at a price."
Election rules set the campaign spending limits at £178,637 per candidate in South Yorkshire.
'Issues and integrity'
"Initially I laughed at the idea of such a limit, but now understand that this is not as fanciful as it sounds," said Ms Radcliffe.
"There are two party political candidates now left to contest the PCC role, along with anyone else who enters the fray over the next month or so.
"I wish them both the very best in their election efforts and hope that this campaign will be won on issues and integrity."
While the final list of candidates will be announced on 19 October, some have already announced their candidacy.
The Liberal Democrats have announced that Barnsley businessman Robert Teal will be their candidate for the post.
Mr Teal, who was selected in a regionwide ballot of Lib Dem members, said he aimed to cut waste and direct funds towards frontline services.
Labour's candidate Shaun Wright is the current vice-chairman of South Yorkshire Police Authority, a magistrate, a school governor and a trustee of the Coalfields Regeneration Trust.
Mr Wright said he wanted resources concentrated at the "sharp end" rather than "costly and often unnecessary red tape".