Jessica Ennis to be given freedom of Sheffield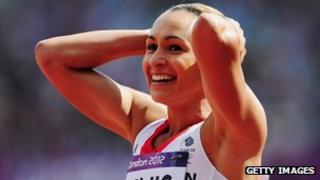 Olympic heptathlon gold medallist Jessica Ennis is to be awarded the freedom of Sheffield after councillors unanimously approved the honour.
Ennis, 26, from Sheffield, was crowned champion heptathlete on 4 August.
Ennis would now be consulted over when she was able to officially sign the scroll granting her the honour, Sheffield City Council said.
Freedom of the city did not carry any special privileges and was purely ceremonial, a spokesman said.
Julie Dore, Labour leader of Sheffield City Council, said she believed Ennis had been "overwhelmed" by the reaction her Olympic win had sparked in her home city.
She said she hoped the heptathlete would be proud to accept the honour of freedom of the city.
Beano cover
The award comes just days after Sheffield United renamed one of its stands after Ennis.
Club owner Kevin McCabe said it was a fitting tribute to honour Ennis' achievements during the London Games as she was "probably Sheffield's biggest ever star".
Since her Olympic victory, Ennis has received a number of accolades - of varying kinds - including becoming the cover star of children's comic the Beano and having a lion cub named after her.
The heptathlete was welcomed back to her home city by about 20,000 people in August after her return from the Games.
Other Sheffield freemen, a term which applies to both male and female recipients, include double Olympic 1500m champion Sebastian Coe, the man behind the London Olympics, and former England cricket captain Michael Vaughan.