Plans for 1,200 homes on Rossington colliery approved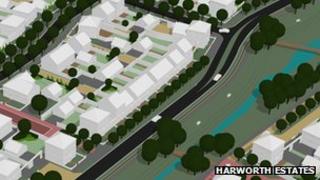 Plans to build 1,200 new homes on the site of a former South Yorkshire colliery have been approved by the borough council.
The homes would be built on the 49 hectare (120 acre) pit at Rossington, near Doncaster, which closed in 2007.
It is part of a £100m redevelopment project, which also includes a pub, hotel, food store and land for a primary school.
Developer Harworth Estates said the work is expected to start in 2015.
Tim Love, from Harworth Estates, the property arm of UK Coal, said: "There will be construction-related employment opportunities for the next 10 to 15 years as the development is built."
'Boost economy'
He said the scheme would help regenerate the area.
Construction work for the housing development would start after a new Inland Port and link road to Doncaster Sheffield airport and the M18 were built, Mr Love said.
The Finningley and Rossington Regeneration Route link road is expected to open in 2014.
The Inland Port rail freight terminal in Rossington was given the go-ahead a year ago.
Work started in July to clear the former pit. More than 13 million tonnes of colliery spoil and 950,000 tonnes of coal will be removed from the site over the next five years.
Councillor Richard Cooper-Holmes had said the development will boost the town's economy.