Leeds Parish church has become a minster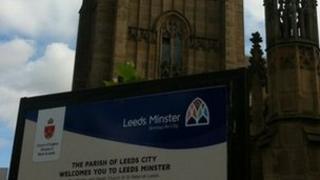 A church in the centre of Leeds has had its status upgraded to that of a minster in a special service.
Leeds Parish Church was given the honorific title because of its importance to the city and to mark the Queen's Diamond Jubilee.
The Bishop of Ripon and Leeds, the Rt Rev John Packer, said the church had a "long and distinguished history".
The ceremony coincides with the original dedication of the church on 2 September 1841.
Bishop Packer said: "The establishing of minster status affirms the importance of its role in God's mission to the whole of the city.
"This is a move which I know is welcomed by the city itself, and by the Lord Lieutenant of West Yorkshire, Dr Ingrid Roscoe."
The present church of St Peter's, Leeds, stands on a site which has been a place of Christian worship for more than 1,000 years, the diocese said.
It is believed the earliest building on the site would have been a Saxon minster.
As well as being a parish church, St Peter's serves as a church for important civic events in the life of the city.