Cod and chips world record battered in Doncaster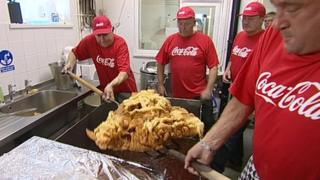 A Doncaster chip shop claims to have broken the world record for the largest portion of cod and chips.
Scawsby Fisheries served 33lb (15kg) of battered cod alongside 64lb (29kg) of chips.
Doncaster paratrooper Ben Parkinson, who lost both legs below the knee in Afghanistan in 2006, was the first person to sample the meal.
Martin Bilby, from Scawsby Fisheries, said they had beaten the old record of 77lb (34.9kg) by 20lb (9.1kg).
That was set by a restaurant in Boston in the US.
Officials from Doncaster Council's weights and measures department weighed the cod and chips.
'Took some getting out'
Mr Bilby said the proof would now be presented to Guinness World Records.
"We lifted the fish out of the fryer using two clean garden forks," he said.
"It took some getting out, to be honest. Two of us lifted it out and two people held the tray it went on."
The pan to fry the cod was borrowed from the Wensleydale Heifer restaurant in West Witton in the Yorkshire Dales, which broke the world record for the largest portion of halibut and chips in July 2011.
Mr Bilby said the fish would make 40-50 portions but if it was sold as one piece, it would cost about £300.
The cod was sourced by the chip shop's fish supplier, Warner's, and was caught by the H P Grandi fishing fleet in Iceland.
Money raised through the world record attempt will go to Mr Parkinson's charity, Pilgrim Bandits.