Paul Davison to run for Humberside police and crime commissioner job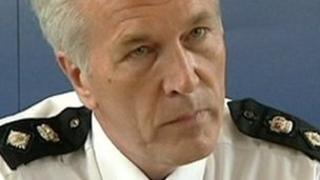 A former chief superintendent is to stand as an independent candidate for the role of police and crime commissioner with the Humberside force.
Paul Davison, who retired earlier this year after working for Humberside Police for 30 years, said he was "privileged and proud" to stand.
He said his experience had given him an "understanding of what local communities want from the police".
Former Hull East MP Lord Prescott is one of the three other candidates.
The former deputy prime minister said tackling anti-social behaviour would be one of his key priorities, if elected as Labour police and crime commissioner.
The UKIP MEP for Yorkshire and North Lincolnshire, Godfrey Bloom, is also to stand on behalf of his party.
'More transparent'
Mr Bloom said he has a "strict no-tolerance view of anti-social behaviour" and said he would give the local community a police force they deserve.
Conservative candidate Matthew Grove said his top priorities would include cutting crime, freeing up police officers and supporting tougher community sentences.
Police and crime commissioners will be tasked with cutting crime and delivering an effective and efficient police service in their force area.
The Home Office said the new role would provide "stronger and more transparent accountability" to the police and make forces answerable to the communities they serve.
Detractors of the plans argue that the introduction of a commissioner risks politicising the police.
The police and crime commissioner elections take place across England and Wales on 15 November.